Agiofarago
The Ride
For the main part it will regular asphalt, but it get rough towards the end and after… hiking.
Food
We are visiting a beach, so beach conditions apply to our meal. It will be mostly picnic style.
What is there?
Agiogarago is a gorge that leads to a secluded beach. It's an extremely beautiful location and -due to the walking distance from the entrance of the gorge- not very busy.
Preparation
You definitely need a sun lotion, a scarf (for the ride), a hat (if you have one) and a bottle of water. A long sleeve top for the ride, might be a good idea.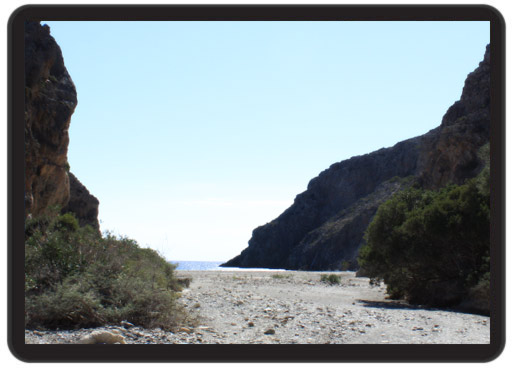 Agiofargao – Mid-Summer Photo Shooting
A few Words
Agiofarago is a gorge that ends in a secluded beach. You can't drive to the beach, you have to walk from a certain point, where we'll leave the vehicles. It's roughly 1,5Km distance and the walk is rather mild, just flat soil with no climbing or the need for special shoes. Some even walk it barefoot.
At the end, we get to a beautiful beach, where there are usually not a lot of people, probably because there is walk involved. The water is great and reasonably deep to enjoy a good swim but also shallow enough to bring your young ones along.
If you have to pick one place to visit while in Crete, make it this one. It's worth big time.
Need More Info?
Stats for Nerds